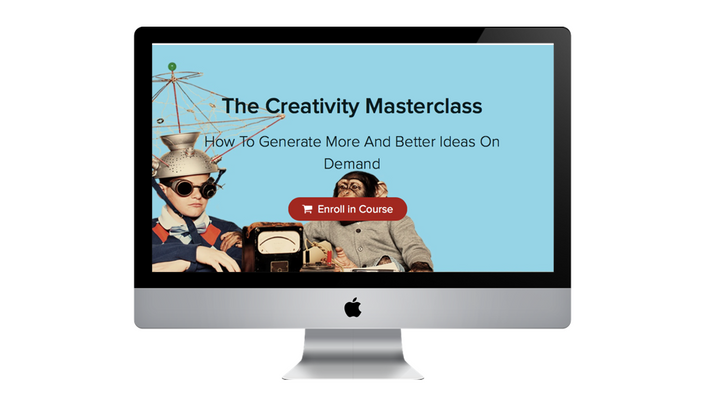 The Creativity Masterclass
How To Generate More And Better Ideas On Demand
Based on the latest research into how creative individuals and firms succeed, and his bestselling book, The Myths of Creativity, David Burkus will highlight the mistaken ideas that hold us back and shows us how anyone can embrace a practical approach, grounded in reality, to finding the best new ideas, projects, processes, and programs.

Whether you struggle with creativity or it's part of your day-to-day job, we can all grow our creativity ability and this masterclass will help you do just that by overcoming your obstacles to finding new ideas.
Here's What You'll Learn in This Master Class:
-Where "a ha" moments come from and how you can have them on demand.
-Why the most creative teams aren't necessarily the most seasoned.
-How to use criticism and disagreement to enhance your creativity.
-Why the most prolifically creative people work differently, and how to do it yourself.
-and even more.
Masterclass Outline:
The masterclass will be divided into 5 main sessions. Each session includes an online, with a way to ask questions and get answers, as well as action steps to take that week.
Session 1: Where great ideas come from
In this session, you'll learn where all creative ideas come from (hint...you) and how to create the necessary circumstances for a creative environment. You'll also learn why "a ha" moments are less rare than you realize, and how to create a work schedule that allows for light bulb experiences almost on demand.
Session 2: Why expertise might hamper creativity
In the modern economy, we tend to assume that when problems get hard, it's time to seek out experts. But in this session, you'll learn why expertise might actually be hindering your creative insights and how to cultivate a mindset that allows for inspiration for a variety of sources.
Session 3: Why originality is the enemy of creativity
You're not that original, and in this session, you'll learn why that's such a good thing. Ideas are built from combining inspiration from a variety of sources, and you'll learn exactly how to create the right combinations.
Session 4: How the most creative teams work together
Creativity is a team sport. In this session, you'll learn why the archetype of the lonely creative is a myth and how and why to build a team and network around you that allows you to get more, and more creative, work done.
Session 5: How to get your idea to spread
Creativity, once its scales becomes an innovation. Sharing your creative idea with the world is a gift, but not one everyone willingly excepts. In this session, you'll learn why great ideas get rejected AND how to set up your idea to spread quickly.
Each session includes a way to ask questions and get answers
Two Free Gifts
In addition, everyone who joins the master class we'll receive two totally free gifts:
-a copy of David's best-selling book The Myths of Creativity ($26 value).*
-An all-access pass to The Truth About Creativity, an interview series with more than 30 of the top experts in the world on creativity, innovation, and design thinking ($149 value).
That's $175 in free stuff just for registering. Sign and claim your spot below.
Your Instructor
David Burkus is a best-selling author, an award-winning podcaster, and associate professor of management at Oral Roberts University. His latest book, Under New Management, challenges the traditional and widely accepted principles of business management and proves that they are outdated, outmoded, or simply don't work — and reveals what does. He's delivered keynotes to the leaders of Fortune 500 companies and the future leaders of the United States Naval Academy. David is a regular contributor to Harvard Business Review and Inc.
Frequently Asked Questions
How long do I have access to the course?
How does lifetime access sound? After enrolling, you have unlimited access to this course for as long as you like - across any and all devices you own.
Are you really giving away a book?
Yes. Everyone who joins the masterclass will receive a free hard copy of David's best-selling The Myths of Creativity. (In the US, internationally, we'll send you an ebook copy).
What if I am unhappy with the course?
We would never want you to be unhappy! If you are unsatisfied with your purchase, contact us within 24 hours of the live workshop and we'll refund your full purchase price.