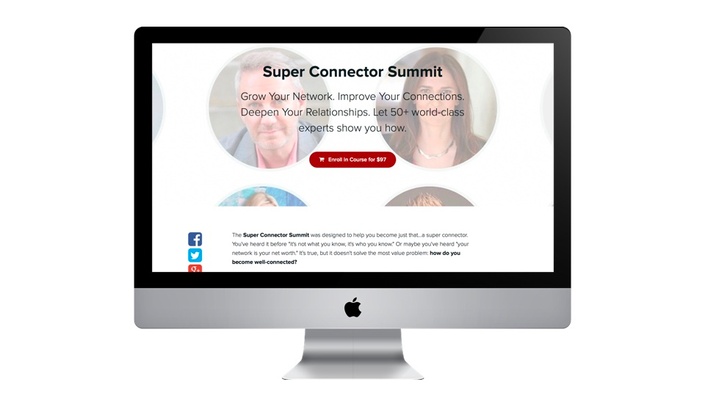 Super Connector Summit
Grow Your Network. Improve Your Connections. Deepen Your Relationships. Let 50+ world-class experts show you how.
The Super Connector Summit was designed to help you become just that...a super connector. You've heard it before "it's not what you know, it's who you know." Or maybe you've heard "your network is your net worth." It's true, but it doesn't solve the most value problem: how do you become well-connected?
The best networkers are super connectors, people with large networks yes...but also people who use their contacts to make others lives and career better by making connections for them. All of the experts in this summit are super connectors in their fields. They've benefited from cultivating a powerful network...and others have benefits to.
Now it's your turn.
This is just a bunch of folks giving you advice. Each speaker will share the powerful strategies that helped them grow their network, improve their connections, and strengthen their relationships...and and the proven tactics that you can applied to find similar success. The insights on this summit can change how you work for the better...
...will you let them?
Featuring:
Adam Grant On How Your Network Grows Best
Dorie Clark On How To Network As A Entrepreneur
Jordan Harbinger On How To Build Authentic Connections
Jenny Blake On How To Network During A Career Change

Derek Coburn On How To Maximize The Value Of Your Existing Network
Caroline Webb On How Your Relationships Lead To a Good Day

John Ruhlin On Why Authentic Giving Is Essential To Strengthen Relationships
Molly Beck On How To Reach Out To Strangers And Grow Your Network
Ryan Michler On How To Build A Community
Erica Dhawan On How To Get Big Things Done Through Your Network
Jason Lauritsen On The Laws of Social Networks
Michelle Tillis Lederman On The Anatomy Of A Great First Conversation
Cody Jefferson On How To Massively Scale Your Network in Less Than One Year
Adele Cehrs On How Math Can Build Your Personal (And Professional) Brand
Jonathan Green On Growing Your Business By Growing Your Network
Alinka Rutkowska On How To Grow Your Network From Anywhere In The World

Mark Babbitt On Why You Need To Be A Social Leader
May Busch On The Five Types of People You Need in Your Network
Michael Lee Stallard On How To Make a Connection Culture
Andrew Tepen On Networking For The Socially Anxious

Angela J Ford On How Writing Can Build Your Network

Daniel Puder On Why Your Network Needs Positive Mentors
Anne Rainbow On Why Writers Need A Network

Austin Church On How To Culivate A Powerful Network

Brian Downard On How To Create Value For Your Network

Christy Largent On How To Get (Almost) Anyone To Like You
Cory Huff On Why You Need A Community

Jennifer Flynn On Why Your Network Effects Your Your Stress Level
Kelly Riggs On How To Make An Authentic First Impression
Dorothy Tannahill-Moran On How To Network As An Introvert

Eric Van Der Hope On Why In Person Networking Isn't Going Anywhere
Jan Koch On How To Grow A Global Business No Matter Where You Are

Tathra Street On How Your Network Can Help Make Wiser Decisions
Jan Rutherford On Why Leaders Need A Supportive Network
Christina Nicholson On How To Get The Media Attention Your Idea Deserves
Matthew Turner On How To Use Interviews As A Networking Tool
Jyotsna Ramachandran On How Writing Can Build A Global Network

Kamelia Britton On How To Build Your Network Through Travel Hacking

Katrina Razava On How To Communicate Well With Others, Even If You Hate Networking

Colin Pal On How Mindfulness Can Help You Deepen Relationships
Kirsten Oliphant On How To Use Blogging To Build A Network And Grow A Community

Lise Cartwright On Why Community-Building Is Network-Building

Lucy V Hay On How To Network In Your Niche

Steve Harper On How The Ripple Effect Strengthens Connections
Mary Kathryn Johnson On How To Build A Network Before You Need It

Jeffrey Shaw On How To Study Your Target Network And Introduce Yourself Properly
Maura Thomas On How To Make Time For Networking

Kevin Kermes On How To Network Late In Your Career
Mike Loomis On How To Grow Your Business Through Your Networ
Nina Amir On Reaching High Performance Through A High Performance Network
Tanner Gers On How Your Network Affects Your Achievements

Jessica Sweet On How To Re-establish Old Network Contacts
Tim Ray On How To Build A Network Of Experts

Alexa Bigwarfe On How To Collaborate With Competitors in Your Network
Clark Gaither On How To Use Powerful Words To Strengthen Relationships

Donna Kozik On How To Grow Your Network On Auto-Pilot Through Writing and Teaching
Ryan Hartwig On How to Map Your Network And Find Your Opportunities
Navid Moazzez On How Virtual Summits Can Massively Grow Your Network

Nick Skillicorn On How Your Network Affects Your Creativity
Your Instructor
One of the world's leading business thinkers, David Burkus' forward-thinking ideas and bestselling books are helping leaders and teams do their best work ever.
He is the best-selling author of five books about business and leadership, including the newest Leading From Anywhere. His books have won multiple awards and have been translated into dozens of languages. His insights on leadership and teamwork have been featured in the Wall Street Journal, Harvard Business Review, USAToday, Fast Company, the Financial Times, Bloomberg BusinessWeek, CNN, the BBC, NPR, and CBS This Morning. Since 2017, Burkus has been ranked as one of the world's top business thought leaders by Thinkers50. As a sought-after international speaker, his TED Talk has been viewed over 2 million times. He's worked with leaders from organizations across all industries including Google, Stryker, Fidelity, Viacom, and even the US Naval Academy.
A former business school professor, Burkus holds a master's degree in organizational psychology from the University of Oklahoma, and a doctorate in strategic leadership from Regent University.
Frequently Asked Questions
When does the course start and finish?
The course starts now and never ends! It is a completely self-paced online course - you decide when you start and when you finish.
How long do I have access to the course?
How does lifetime access sound? After enrolling, you have unlimited access to this course for as long as you like - across any and all devices you own.
What if I am unhappy with the course?
We would never want you to be unhappy! If you are unsatisfied with your purchase, contact us in the first 30 days and we will give you a full refund.